Completion of SASS is a legal requirement of The Child Minding and Day Care (Wales) Regulations 2010.
The SASS opened on the 7th July 2021. Providers have until the 4th August 2021 to submit their completed SASS.
Helpful tips
The SASS must be submitted via CIW Online.
The SASS can only be completed by Responsible Individuals/Registered Persons who have 'Activated' their CIW Online account.
If you cannot access your account please check you are using the correct email address, this will be the email address you used to create your CIW Online account. If you continue to have problems logging on, please contact us.
If you have multiple services associated to your provider, you will need to complete the SASS return for all services before you are able to submit the SASS.
On successfully logging into your CIW Online account, the SASS is available via the 'Open Provider' button on the homepage. On opening the provider, simply select the 'SASS' menu at the top of the screen. You will be unable to access the SASS via the individual Service.
Please do not select 'Start Application', this is for registering brand new providers only.
You can save and return to your application at any point before the submission date.
The SASS is split into sections. Each section has been split into a number of sub-sections to help you navigate the form. Your sub-section progress is identified via a % sign.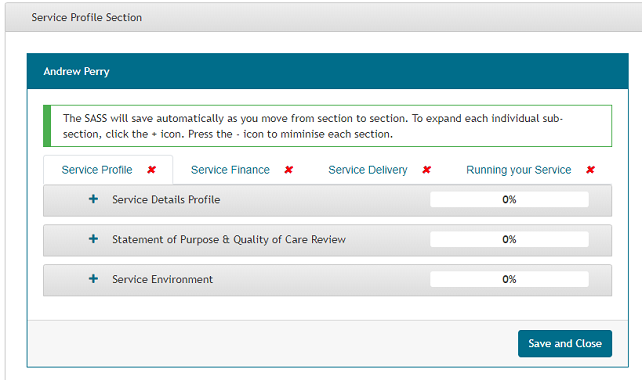 To help you keep track of your progress, a red X shows you the sections you are yet to fully complete whilst green ticks show you the sections that are complete. All sections must show a green tick in order to submit.
You will only be able to submit the SASS once all mandatory fields are 100% complete for all services associated to the provider.
Need help?
For technical assistance accessing CIW online to complete your SASS, contact us on 0300 7900 126, Option 4 or email ciw@gov.wales.