Action required to keep your provider listing in our website directory
From 5th May 2021 we will be removing telephone numbers from our service directory where permission to share has not been given.
We have written to service providers to let them know of changes to our service directory which will remove telephone numbers where individual services have not provided consent to display their details.
What action you must take now
To ensure your telephone number remains on your service page, please log in to your CIW Online account to select the tick option under the 'edit service profile' section as displayed below. This can only be completed if your account has been activated to responsible individual, responsible person or organisational officer level.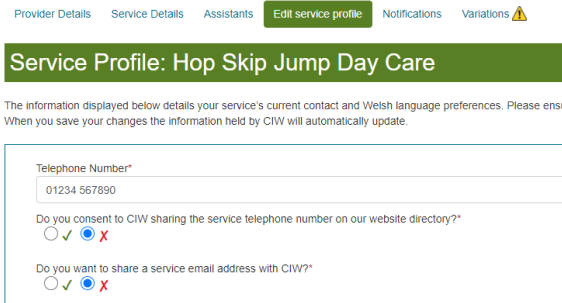 If you do not wish to display your details on our directory, please ensure to select the cross on the above question.
Please note, where an answer has not been provided to the above questions we will automatically assume that permission has not been given and your details will not be displayed on our directory.
Help for you
If you have any questions or need support, please do not hesitate to call us on 0300 7900 126 and select option 4, or email ciw@gov.wales.
If you do not have a CIW Online account, please visit our online services page for more information on how to register.